SERVICED HOUSING UNITS ROGAŠKA SLATINA – KIDRIČEVA ULICA
The operation is part-financed by the European Union under the Recovery and Resilience Facility. The operation is implemented under Component 16: "Housing Policy, Investment: Providing public rental housing units."
THE FINAL RECIPIENT: Housing Fund RS
TOTAL PROJECT VALUE: EUR 482,068
At the beginning of 2022, the Municipality of Rogaška Slatina submitted an application to the Co-financing Programme for the Provision of Housing Units for the Elderly in 2021 and 2022.
On the basis of the decision of the NS SSRS and the concluded co-investor agreement, sales contract and kitchen fitting contract, the entire project will cost EUR 1,342,068 incl. VAT, of which the investment was co-financed by the Housing Fund of the Republic of Slovenia in the amount of EUR 482,068 incl. VAT, thus becoming the owner of 6 serviced housing units with fitted kitchens, with a total area of 240.05 m2 of living space, at the location of Kidričeva ulica 6 in Rogaška Slatina. Together with the Municipality of Rogaška Slatina, 12 new public housing units at non-profit rent have been secured in the new facility, which are expected to be available in autumn 2022.
The final occupancy permit was obtained on 15 September 2022.
The Fund has obtained approval for EU co-financing under the Resilience and Recovery Plan, Component 16, for the purchase of 6 serviced housing units: Housing policy, investment: Providing public rental housing units amounting to EUR 218,895.
The building with serviced apartments is situated in a beautiful location at the intersection of Kidričeva street and Strma cesta street, with access to shops and services in the immediate vicinity. The building consists of a ground floor, two floors and an attic. The floor plan of the housing units allows for maximum flexibility and living comfort.The rationally used space on the ground floor also includes a common area, which is intended for socialising and connecting the residents. All housing units are equipped with kitchens and sanitary facilities in the bathrooms. The surrounding area will include 26 parking spaces, an outdoor space for socialising and – last but not least – the second outdoor fitness centre for the elderly in Rogaška Slatina, which will be open to all visitors and not only to the users of the facility.
On 6 October 2022, Rogaška Slatina hosted the opening ceremony of the serviced living facility. The ribbon was cut by the Director of the Housing Fund of the Republic of Slovenia, mag. Črtomir Remec, Mayor of the Municipality of Rogaška Slatina mag. Branko Kidrič and the Director of Panles oprema company, Robert Pažon. Also, the keys were symbolically handed over to some users.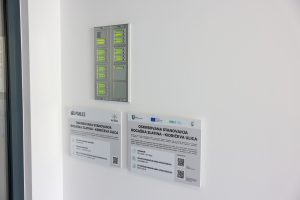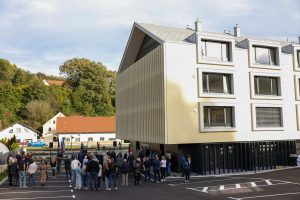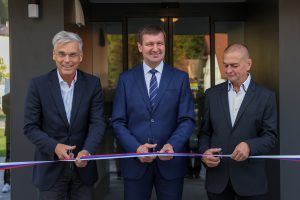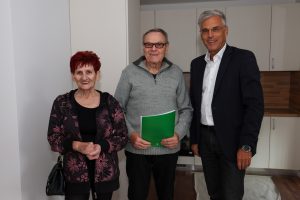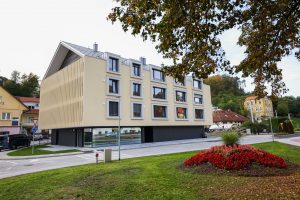 Fotografiranje na javnem dogodku in so vir SSRS.